There's a saying that "what happens in Vegas, stays in Vegas" and that statement will certainly be true for two of the industry's biggest IT vendors. Both Dell Technologies World and HPE Discover have chosen to shun influencer attendance in 2022 as technology events return in person. Are we about to call time on the technology influencer?
I've been fortunate to have attended many tech events over the last decade or so. The early visions of Calvin Zito at HPE, Stephen Foskett with Tech Field Day and Carli Ghelfi at Hitachi have developed into industry-wide programs and created teams focused on managing relations with influencers across the technology spectrum. Many of the original influencer folks had day jobs, so took personal time off to attend events. On the flipside, we're all grateful, I'm sure, for the money invested by IT vendors to pay for flights and accommodation and make the whole process work.
Evolution
From the early days of influencer programs, we've now started to see a much greater focus on numbers, including reach and engagement. In the last four or five years, many vendors have started using "super influencers" or folks with huge Twitter and LinkedIn followings that reach into the hundreds of thousands.
This transition highlights the change in approach (which could be classed as evolution), where the engagement of influencers as moved from one of discussion to a broadcast mode. This stance mirrors the wider influencer market where promotion by celebrities with millions of followers can change the dynamic of brands and product sales.
Analysis
Over the past five years, I've moved from the position of influencer to focus much more on the analysis of vendors and products.  This has resulted in more quantitative and qualitative research into solutions like the storage and container market.  I've watched the evolution of the influencer for some time and had already started the transition away to analyst.
Traditionally, the analyst, influencer and press sections of the industry are handled by different groups.  I still get emails and press releases that assume I work as a journalist, mainly from my time writing many articles for the likes of TechTarget and Network Computing.  Some vendors have accepted my positioning as an analyst, and I'm pleased to see companies like Infinidat, HYCU, Commvault, NetApp, IBM and AWS adding me to their analyst roster. 
For a while, I was also included in the Dell Inc analyst portal, but that access was mysteriously revoked, and the Dell AR team stopped responding to my emails. Bizarrely, I still receive occasional Dell Analyst Relations Weekly Alert emails, which I can't stop, as I have to log into the portal to change email preferences.
Events 2022
As in-person events resume, I see many friends and colleagues who are bemused at the stance taken by Dell and HPE with regard to analysts and influencers. Dell Technologies appears to have become much more selective with their analyst briefings and at the same time dropped influencers altogether.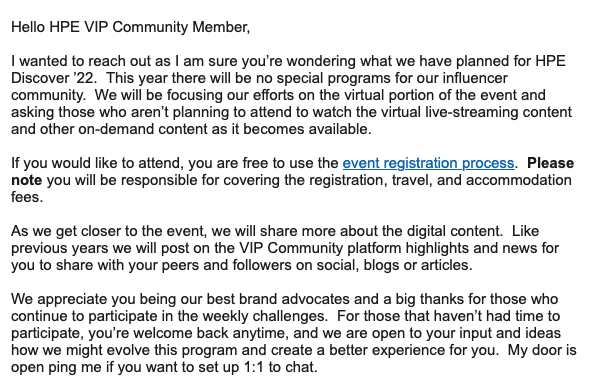 HPE issued what must be one of the most unusual messages to their influencer community, indicating that the Influencer Program would be doing nothing at their flagship event, while hoping that email recipients would continue to be engaged with the HPE online community.
As for the remainder of the industry, I guess we can only wait and see what happens.
Pandemic
Why are we starting to see a change towards the influencer community? The most obvious disruptor in the last two years has been the coronavirus pandemic. Events initially moved virtual, most (but not all) of which resulted in pre-recorded content with little or no value. Perhaps vendors looked at the market and determined that the value offered by influencers wasn't useful to them.
Another aspect is perhaps the change in technology innovation. The rise in use of the public cloud has transformed technology adoption and, in some areas, resulted in little or no innovation. On-premises hardware is moving towards an "as-a-service" model that further obfuscates the underlying technology in use. When two vendors offer black-box services with the same features, how (other than cost) are customers meant to compare one against the other?
Inclusion
As a reader, you might ask why I've written this blog post. What's my point? Let's look for a moment at what benefit in-person attendance and briefings offer. Meeting in-person provides an opportunity for more in-depth discussion, especially with peers across the industry. This helps my opinion to be more well-formed and better judged. Briefings offer a deeper dive into technology and strategy. This again, enables me to write from a position where I can consider the benefits for existing customers and end users.
Without the ability to engage more directly with IT vendors and the teams that are developing products and solutions, anything I write simply becomes a regurgitation of marketing material and the view of the world the vendor wishes to create.
Marketing is about putting the best spin on products and services, but regularly doesn't address the needs of the customer directly. This is not the fault of the marketing department, which is there to drive interest and ultimately sales. Analysts are there to provide a more dispassionate and independent view of the world, helping potential customers to pick the right product.
The Architect's View®
I wanted to write this post as a statement of future intent.  Where possible, Architecting IT will always choose to go past the use of marketing material and engage with vendors directly to reach a greater level of understanding on products and strategy.  Where this is not possible, we will highlight when marketing material (and other legitimate, freely available content) is used to form opinion.  If we deem this content insufficient, then vendors may be excluded from analysis, and we will make this clear.  Email us at [email protected] if you feel you should be included in research and reports.
Copyright (c) 2007-2022 – Post #c456 – Brookend Ltd, first published on https://www.architecting.it/blog, do not reproduce without permission. The Architect's View is a registered trademark in the UK of Brookend Limited.