Scality has announced ARTESCA (yes, in capitals), a new platform for a broader range of object storage use cases.  This evolution of the Scality strategy highlights the diversity in unstructured data requirements needed by the enterprise. 
Background
Scality has been in business since 2009, releasing the first version of RING in 2010.  The RING platform supports unstructured data, both in the traditional object storage form and as a scale-out file system (SOFS) for traditional NAS use cases.  A RING deployment consists of at least three servers and, when initially developed, was based on hard drives.  In 2010, vendors had just started shipping 1TB 2.5" and 2TB 3.5" drives.  Today, we're on the edge of capacities that are reaching ten times those values.  Once data resiliency has been factored in, a minimal RING deployment from 2010 might have reached tens of terabytes, whereas today, this extends into the hundreds of terabytes of capacity. 
Evolving Use Cases
In parallel with media capacity growth and the introduction of high-capacity and cost-efficient SSDs, the market for data storage has evolved significantly. The use cases for unstructured data now spans from the core data centre to the public cloud and edge computing. The Edge can include data collection devices as well as smaller "micro-data centres" serving, for example, distributed businesses like retail.
Object storage is used for archive (backups and long-term retention), analytics (high-performance, high concurrency) and wider application diversity that now includes container and Kubernetes-based developments. It's typical to see developers wanting programmatic access to create and use on-premises object storage buckets on-demand, just like the public cloud.
Compact and Bijou
Considering the evolution in requirements, there's a gap between the needs of business and the platforms available in the market. Some solutions already exist that offer lightweight object functionality; however, the enterprise needs the capabilities of "big object storage" with the flexibility of cloud-native and lightweight deployments.
Scality has been flirting with alternatives to RING for several years.  Zenko delivers data mobility features, while the original S3 Server (Zenko CloudServer) offered a lightweight object storage solution.  Check out this post from almost four years ago, which has some additional details. 
ARTESCA
Today, Scality is announcing ARTESCA, a "lightweight cloud-native object storage software" solution. The platform clearly has heritage from Zenko and CloudServer but offers a more mature ecosystem of features and functionality for the enterprise. A single ARTESCA deployment can start with a single server, running on Kubernetes deployed as a VM or bare-metal.
When comparing ARTESCA to RING, one obvious question to ask is how Scality can provide the resilience typically achieved with multiple node-based deployments. ARTESCA uses two erasure-coding techniques. One protects data across multiple drives within a single server; the other protects across multiple servers to recover from complete node failures. This process protects against the most common data loss scenarios – a single drive – while mitigating the overhead of moving data across the network.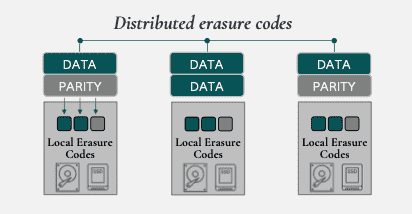 I'd like to see some rebuild and recovery times published, plus some details on the efficiency of two erasure coding schemes across an ARTESCA deployment. Customers will want to know how this protection scheme stacks up against RING, including where the cut-off point lies between the two solutions.
Partners
Scality is launching ARTESCA with HPE, offering a range of core and edge server models.  The company also has partnerships with ISVs and data protection solution providers.  The specifics of how end-users can licence and consume ARTESCA aren't 100% clear (at least to me).  Licensing could be an interesting area where the ARTESCA platform could be differentiated from the market.  We've already seen hourly licensing models for container-attached storage, so will Scality take the lead and do the same with ARTESCA?
Just as a side note, is it time HPE finally went ahead and acquired Scality?
The Architect's View™
Container-native storage already exists to serve the requirements of containerised applications, including Kubernetes. Unstructured data extends this ecosystem, enabling developers to provide access to data across multiple protocols without needing to spend time on understanding how the data is stored and managed.
The lightweight nature of ARTESCA offers flexibility and agility for cloud-native applications.  However, I'm interested to see how well ARTESCA and RING will integrate and operate together (federation between the two is already one announced feature).  ARTESCA can offer the benefits of local data copies, either permanently or temporarily, on-demand.  RING offers the centralised "golden repository" of data that acts as the long-term retention platform for the enterprise.  Whilst Scality is clearly meeting a gap in the market, the longer-term benefit for customers could be the synergy of RING and ARTESCA working together. 
---
Copyright (c) 2007-2021 – Post #26ba – Brookend Ltd, first published on https://www.architecting.it/blog, do not reproduce without permission.