Samsung has recently announced an 8TB NF1 format NVMe SSD. NF1 was originally called NGSFF (Next Generation Small Form Factor) and is intended as a replacement for the existing M.2 format drives. With 15K and 10K drives disappearing from the market, is it time to accept we should move on from legacy HDD drive sizes?
A couple of years ago I wrote a post that discussed the relative lack of adoption of M.2 by the enterprise. At the time, it seemed like M.2 could be a great enterprise format, but wasn't being widely used. M.2 drives are slightly smaller than the new NF1 format. Both are 110mm long. NF1 drives are 30.5mm wide, whereas M.2 was 22mm in width (note there are other sizes of M.2). Unfortunately, M.2 isn't hot-swappable and that's an issue for replacing drives in a chassis that could hold up to 36 SSDs. I think the other limiting factors for M.2 at the time were capacity (drives had a maximum capacity of 2TB) and available servers in which to deploy them.
NF1
The NF1 format is slightly wider than the M.2 and that appears to have given Samsung the ability to put two rows of V-NAND chips on each side of the device. The images gives you an idea of what this means. With NF1, the new drive has 16 512GB packages, each holding 16 256Gb TLC V-NAND dies. Running the maths, we can see how the device provides 8TB of capacity (7.68TB available to the user, presumably with some over-subscription). Samsung claims to be able to move quickly to 16TB capacity per drive. This datasheet indicates we can expect 16TB models later in the year.
PM983 NF1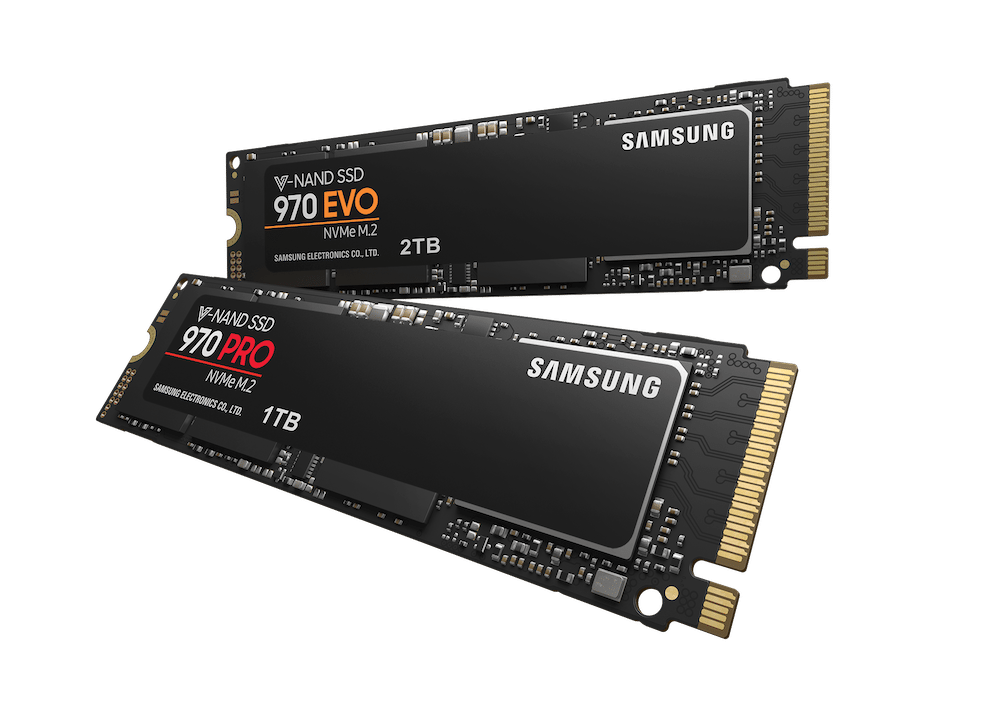 Product specifications indicate 3.1GB/s read and 2GB/s write performance (128KB block size) with up to 540,000 read IOPS and 50,000* write IOPS (4KB block size, 32 queue depth). The interface is PCIe 3.0 x4, although the Samsung press release does indicate future support for PCIe 4.0, which has twice the throughput of PCIe 3.0. No latency figures are provided. Endurance is 1.3 DWPD over three years.
Petabyte Scale
With 1U servers like this one from Supermicro, it's possible to deploy 288TB in 1U today, with the potential for 1/2 a petabyte in 1U with 16TB devices. We're back to a discussion of failure domains again, as discussed last year when talking about Intel's Ruler format. Each of the drives is deployed in a caddy and is hot swappable. This post from AnandTech gives you an idea of what the caddies and server look like.
Ditching U.2
As we start to move away from 15K and 10K HDDs (as discussed on our podcast this week), then there's no need to retain a legacy form-factor like the 2.5″ drive bay, other than for backward compatibility. NF1 and these other smaller form factors make much more sense, now that they offer hot-swappable capability.
The Architect's View
Possibly the difficulty with using a chassis fully populated with NF1 drives is being able to use them effectively. A full chassis would be (theoretically) capable of 18 million read IOPS and over 100GB/s of read throughput. We also have no idea on pricing, although the nearest comparison is with the Samsung 970 EVO at around $300/TB. I really like the idea of NF1 as a format and I hope we see a range of systems using them, including hyper-converged infrastructure. There could be an interesting battle here between the ultra-high capacity drives and the stick-sized drives like NF1, based on the implied risk of putting so much storage in a single package.
For some additional background, we discussed ultra-high capacity drives in episode #44 of Storage Unpacked and the demise of 15K and 10K drives in episode #54.
* one other small issue; the I/O performance of the NF1 seems remarkably low for writes at 1/10th the performance for read. The 50,000 value is quoted both in the press release and in the datasheet. Looking at the numbers quoted for the 970 EVO, random writes with queue depth=1 shows the same figure. The PM983 datasheet says that the 50,000 IOPS figure is with queue depth=32, which seems to counter the drive capability.
Comments are always welcome; please read our Comments Policy. If you have any related links of interest, please feel free to add them as a comment for consideration.
Copyright (c) 2007-2018 – Post #58C7 – Chris M Evans, first published on https://blog.architecting.it, do not reproduce without permission. All images copyright and courtesy of Samsung.