At Accelerate 2022, Pure Storage announced a restructuring of the Evergreen programme, rebranding Pure-as-a-Service as Evergreen//One and introducing a new Evergreen//Flex option. In this post, we dive into the details to understand the rationale behind the changes.
Storage vendors (and technology vendors in general) have gradually introduced new purchasing models for on-premises infrastructure customers. This change has been driven by the flexibility of the public cloud and the desire of businesses to transform their capital purchasing structure to more dynamic opex models.
Of course, it's not possible to offer the same degree of flexibility for physical hardware in a customer data centre that can be delivered in a service-based public cloud. The public cloud model benefits from multi-tenancy and the ability to share resources between customers. This enables solution providers like AWS, Azure and GCP to smooth out the peaks and troughs in demand while ensuring that capacity is available whenever needed.
Enterprise
On a smaller scale, the same challenges exist in enterprise businesses, with larger organisations acting as "mini-clouds" in their own right. Some of the benefits of the public cloud can be transferred to these organisations, but historically, vendor purchasing models didn't make that task easy. Internal IT departments were required to be the conduit that implemented capex to opex conversion.
Vendors like Pure Storage have had more flexible consumption models for some time. Pure first delivered Evergreen back in 2015. The capability to offer upgradeable systems was driven by the design of FlashArray//m and the modular design it introduced.
Pros and Cons
Moving from capex to opex has both benefits and disadvantages. We highlighted some of the issues in this blog post from 2019. The "as-a-service" option can be very flexible, but you won't own the assets and certainly can't "sweat" the value when looking to reduce costs (incidentally, this is a challenge of the entire public cloud and as-a-service model). The solution is to offer customers a spectrum of solutions that meet requirements while addressing any concerns and restrictions customers may have. This is essentially how Pure Storage has rebranded the Evergreen programme.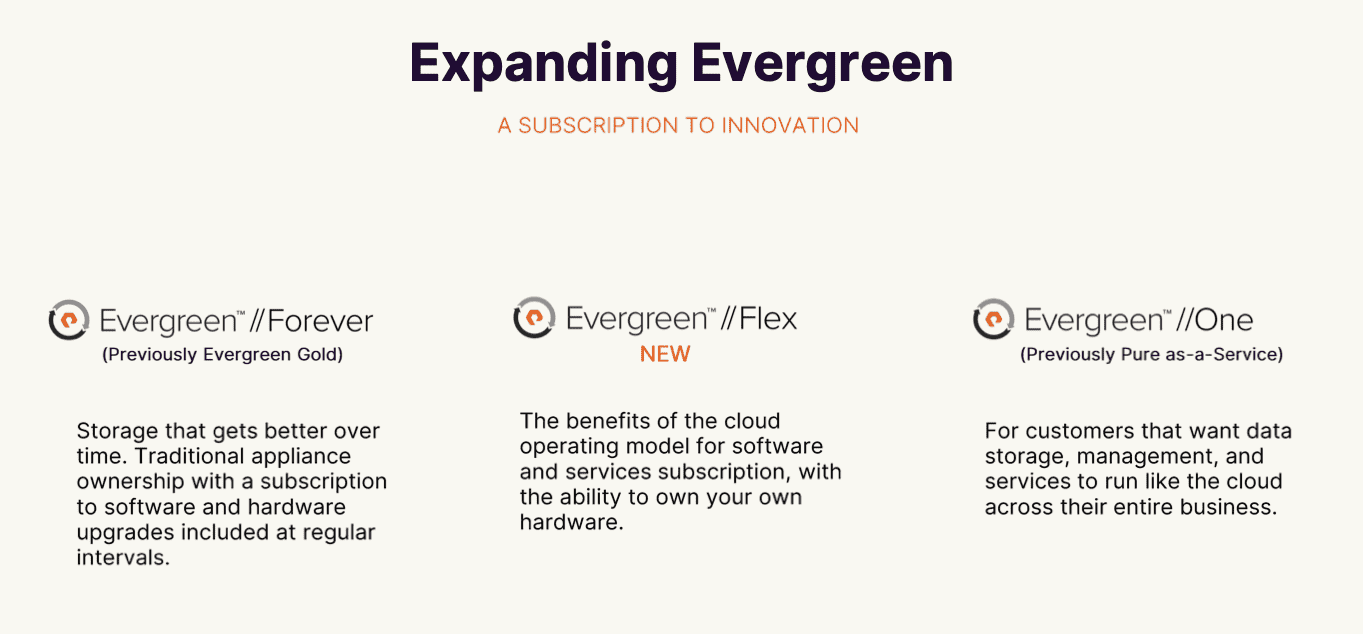 Evergreen//
As part of the announcements at Accelerate 2022, Pure Storage has rebranded the existing Pure-as-a-Service and Evergreen Gold offerings while introducing a new consumption choice called Evergreen//Flex. The three new categories are shown in figure 1.
Evergreen//Forever – previously known as Evergreen Gold, this model provides hardware/asset ownership, software licensing and regular upgrades to new hardware while the subscription licence continues.
Evergreen//Flex – a new option that allows customers to continue with hardware ownership while providing the ability to reconfigure hardware in the most optimal way.
Evergreen//One – previously known as Pure-as-a-Service, this offers customers a true consumption model, paid by capacity, where Pure Storage manages and maintains the assets (and their ownership).
The Flex option sits somewhere between owning the asset and consuming a service.
For some enterprise organisations, the option to consume an entirely service-based model isn't practical due to regulatory constraints, a concern over risk management or security concerns. Typically, "as-a-service" models cede control and responsibility to the vendor, taking decision making around technology reconfiguration and maintenance out of the customer's hands. For many IT organisations, this transition is a boon, but others will be unable to relinquish that degree of control.
When asset ownership is the preferred or only option, vendors generally offer little or no reconfiguration flexibility. This restriction can lead to inefficiencies when storage resources exist in one location or array but are needed in others. Evergreen//Flex enables customers to be more dynamic in the way hardware is configured, offering component mobility to address both performance and capacity requirements. Figures 2 & 3 show the choices now available to customers as a spectrum of ownership versus service-based consumption models.
FlashBlade//S
Until the announcement of FlashBlade//S, customers would have been restricted to reconfiguration flexibility within the FlashArray family. However, the new FlashBlade system uses the same DFMs (DirectFlash Modules) as those in FlashArray, so cross-family reconfiguration of storage resources will be possible. This is quite a step forward in the industry and arguably not available from any other vendor, except for those offering a pure software-defined storage model.
Fleet Management
In large, more complex environments, the process of fleet rebalancing requires lots of historical data on usage patterns across systems. This is where Pure1 and Fusion come in. Pure1 is a SaaS analytics tool for Pure hardware and was announced at Accelerate 2017. Fusion was announced at the Pure//Launch event in September 2021. You can read more about this fleet management solution in these blog posts (here and here) we published at the time.
The Architect's View®
Delivering a cloud-like experience is only possible if the features of the hardware enable the flexibility required by the service model. By transitioning FlashBlade to DFMs, Pure Storage has provided another opportunity for customers to maintain long-term use of resources in a cost-efficient way. This hardware flexibility needed a new Evergreen model, without which the benefits wouldn't be crystallised.
On-premises hardware can never be as flexible as the public cloud; however, vendors can make solutions operate in a dynamic fashion that closely emulates the cloud model. In particular, this approach applies to service providers using Pure Storage hardware as the basis for bespoke cloud deployments.
Vendors unable or unwilling to adapt to a spectrum of consumption models will surely experience a decline in business over time as customers choose to refresh and build on cost-efficient and flexible platforms. Flexible purchasing models will become table stakes (if not already so).
Read more about FlashBlade//S in this blog post.  We also spoke to Pure Storage CTO Rob Lee in this podcast, which adds additional background to the discussion.  Naturally, we highly recommend it. 
Copyright (c) 2007-2022 – Post #82c1 – Brookend Ltd, first published on https://www.architecting.it/blog, do not reproduce without permission. Pure Storage is a Tracked Vendor by Architecting IT in storage systems and software-defined storage. Pure Storage has been a customer of Brookend Limited prior to 2022.